Infrastructure Pipeline Systems
With an extended product range, Cosmoplast\\\'s pipeline systems cater to an extensive range of market sectors and applications covering infrastructure development, oil & gas, district cooling, irrigation, landscaping and water extraction.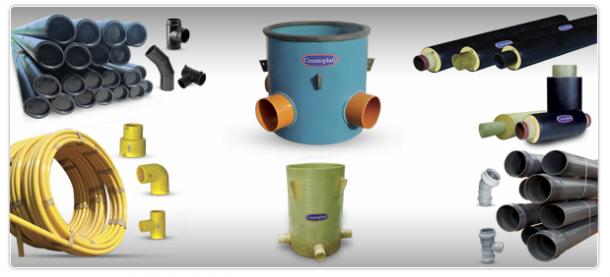 Continuously enhancing its capabilities in the plastic manufacturing technologies, Cosmoplast, the largest thermoplastic pipe manufacturer in the Middle East now utilizes a diverse range of materials such as uPVC, Polyethylene (PE 100, PE 80, LLDPE) and glass reinforced thermoplasitc (GRP) and manufactures pipes in sizes ranging from 20mm up to 2000mm. Ongoing research and development programs continue to add new products to its pipeline systems product range that also includes pre-insulated pipes, reinforced thermoplastic pipes, and fabricated uPVC and GRP manhole systems.